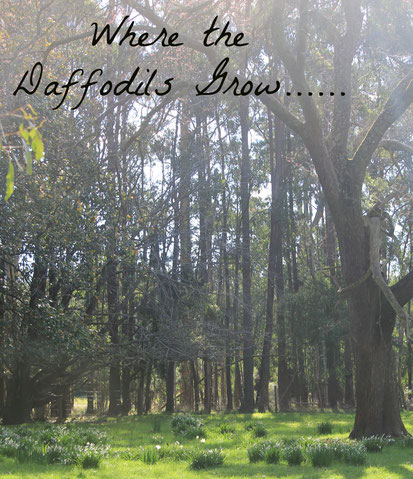 Every Spring there is a beautiful space that I like to visit down one of these red dirt country roads that are everywhere around us. Visiting a giant circle of 100 year old daffodils and quietly enjoying the sunshine streaming through the trees. 
It's a small block of land in the middle of the bush that used to house a tiny country school room, where all the surrounding local kids would presumably walk down to every day to learn their lessons.
Its an amazing light filled space, and with permission by the land owner of course, we have enjoyed having a run around, picking the ancient double daffodils, jonquils and snowdrops, possibly sent from England to adorn the gardens of these school houses. 
The space has a lovely energy, with a big old oak tree sitting in the middle, the base of the tree circled with these amazing fragrant flowers.
It's such a nice place, that its even inspired me to write a little poem about it. 
Where the Daffodils Grow.....
There's a little green patch, A special place I know
Right down the end of this red dirt road
When there's a chill in the air , and the sun is low
I like to go…..
Where the old oak tree stands wise and tall
If it wasn't there, there'd be nothing at all
Few stumps left from the wood school room
Where the hundred year old daffodils bloom……
One day its lost and then suddenly found
There's nothing much left of the old town
Our bare feet spreads the blossoms around
And there isn't a sound
Barely a trace now where we stand
Nothing but a gardeners hand
When there's a chill in the air and the sun is low
And he asks me where I want to go
Look up at the wooden telephone poles
When we walk right down this red dirt road
hand in hand you know………
where the daffodils grow…..
So I always visit when it gets to a certain time of year, and enjoy the blooms, the green lush grass comes alive with all the scented flowers, then in a matter of a few short weeks, they are all gone again, a sign Summer is finally on its way. 
It's blooming happiness may be fleeting but at the very least, it's still enjoyed by a few. 
Share: