#b2bfridays
Twitter Engagement
Some research shows up to 18% spike in engagement on Fridays compared to Tues-Thurs. (Mashable)
People want to talk on Fridays
Research shows that people start to "Mentally check out" on Friday afternoons and transitioning to a more social state for the weekend. People are willing to have conversations on Fridays.
Say Hi
Its a great time to have a casual conversation, share industry news, help or acknowledge a client before the weekend. Nothing too heavy though, thats for Monday mornings!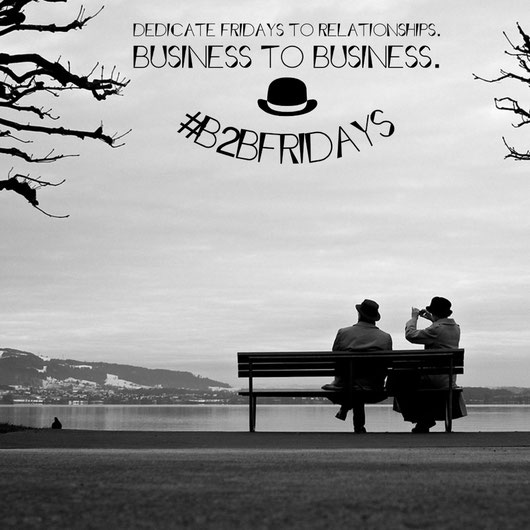 With people being more open to be sociable on Fridays, why not set aside time on Fridays to connect with your fans, engage with them, reach out with authentic conversation, and show them that you care. 
Share news with industry peers and share their good news with your fans, collaboration strengthens your relationships with them. 
Share some good news stories from the last week, even share and retweet your fans achievements. Sharing positive news puts everyone in a good mood for the weekend.  
Thank new followers personally on a Friday by tweeting or tagging them in a post, and wish them a happy weekend of course!
If you are a music venue or entertainment business share a newsletter on Friday with everything thats coming up, its an ideal time to release information about upcoming events.
#FeelGoodFriday
Share an inspiring or "Feel Good Story" with people in your industry.
#FeatureFriday
Take the time to highlight one of your B2B clients, their achievements, why you like to do business with them. 
#FridayReads
Share what you are going to read over the weekend, or what you have just read with B2B clients.
Share:
What do you like to share with your fans on a Friday?