#HashtagCampaigns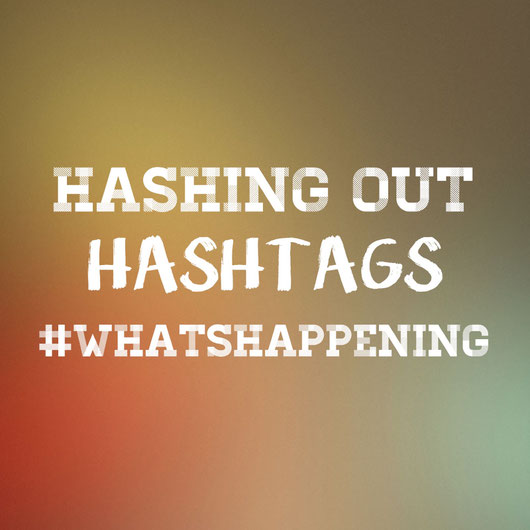 #theHashtag
What is a Hashtag?
A short selection of words preceded by a # symbol, which is then used as a reference tool by audiences when using social media.
Why Use a Hashtag with your Content?
It creates a point of reference for your own content online, so that it is ultimately easier for people to find you, buy your products, and start conversations.
This morning I am sitting down and writing out a list of possible hashtags for a client of mine to use in a local hashtag campaign to launch a product.  When I say i'm "hashing out hashtags", i'm literally thinking of any words that would go together well to send out a message to the digital community, and words that can be communicated via word of mouth locally to create a buzz for this business and product.
Short snappy words that have some reference to your business work best. But also need to memorable and easy to communicate. Sometimes hashtags around products and businesses take on a life of their own and customers may even create ones of their own online when they share your products, which is a quite a compliment! 
Here are some tips I'm sharing with you today. When you use a hashtag it refers to a certain topic so you can then see who is talking about your product on-line via search engines. For example, type in "#whatshappening" right now into google and see what pops up (i promise you won't break the internet)!
Remember to display some hashtags in your physical business in the real world, having them displayed on a wall can start conversations in the gym or coffee shop, even at a music gig, for example, that can prompt conversations between yourself and customers, and a reminder to check that hashtag online when they get home, which then could be shared in their digital community.
Happy Hashtagging! x
Owning a Hastag
Sure its easier to hop on a hashtag bandwagon that someone has already created. Interacting with these is great and may help you gain new followers, but when it comes to your own services and products, creating your very own hashtag is valuable as it creates a point of reference to you.
You do not need to be fussy about what the slogan is as long as your audience understands that its yours and the wording means something to them, and to you.
Testing Hashtags
It's possible, especially if you meet your customers everyday, to test out possible hashtags that you would like to use with your customers.
Write and type them up in places, and see which ones stand out to your customers, find out which ones your customers tend to use. 
Pick your best three and have a go, and soon one or two of these will stand out to them. 
You can also test them out with people in your industry or immediate circle, see which ones they like the best. 
Hashtags can Morph
When you pick a hashtag, don't be too precious about it staying the same, be prepared for your customer to change them, they can morph into something else completely thats bigger and better. 
For example if you are a musician and you use the title of a song as a hashtag, but it has a really catchy chorus line and your customers start using that as hashtag, just go with it, you may find it gets shared about a lot more! 
Nothing is set in stone when it comes to the internet, so have fun, and see what happens. 
Share: